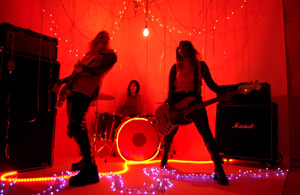 Free Verse
With a diverse fan base ranging from devout indie rockers, hardcore kids, political punks and riot grrrl rockers, Free Verse has crossed between several musical genres and has developed an impressive national underground buzz. Since their formation in Lawrence, Kansas in 1995, Jenni (guitar), Lisa (bass), and M (drums) have been combining experimental punk with discordant melodies, and have carved out their own niche within hardcore music. In 1998, Free Verse relocated to Seattle, Washington and has since become a vital part of the Northwest music scene. Their sound is hard to categorize, and this has proven to be a distinct advantage for the trio. Their unique approach to songwriting has caught the ear of a variety of prominent bands and music promoters throughout the years. This has allowed Free Verse to share the stage with several other groundbreaking acts.
Hardcore bands such as The Blood Brothers, Coalesce & Botch
Indie stars like Sleater-Kinney & The Get Up Kids
Punk bands ranging from Auntie Christ (Excene Cervenka) to SNFU and the Lunachicks... not to mention legendary pro-riot grrrl heroes like The Need, The Butchies, & The Cold Cold Hearts (Bratmobile).
The women of Free Verse are supporters of several political organizations, and were chosen to participate in The Northwest Coalition For Human Dignity's anti-racism tour back in October 2002, which was sponsored by Ms. Magazine and also featured in ROCKRGRL Magazine. Along with other up-and-coming artists such as Mates of State and Carrie Akre, Free Verse was chosen to be included on the 2003 Ladyfest Seattle Compilation CD. Their involvement also included playing the festivals hardcore/metal show, which benefited local non-profit organizations.
Generator is intense and high-energy, belting out screams and melodies intertwined with complex guitar & bass lines and thrashing beats. Each track is a rollercoaster ride of electrifying hooks and sharp twists in tempo with a dose of brutal hardcore just around the next corner.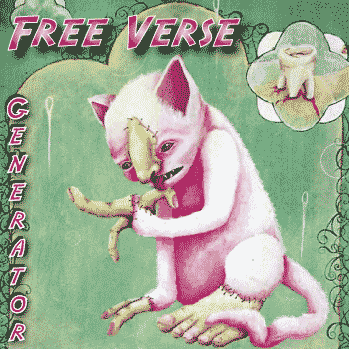 Free Verse
Generator
BMR 12
Produced by Jack Endino and Free Verse
Mixed by Jack Endino
Mastered by Jack Endino
Release date: 10/26/04
Tracks:
No Crime No Gain
Reviews
---
©2004 Buttermilk Records | All Rights Reserved | Rights & Usage